Th e story on how Kenyan models are taken advantage of in the Kenyan industry doesnt come as a shock to many.  This story comes about after former Miss World Kenya Machakos county Sheila Kanini shed some light on what was really happening in the modelling industry.
Surprisingly even the bigwigs have been caught up in this saga where it is alleged they do not pay their models and some go an extent further of asking for a 60% of the model's pay.
Others like Samantha Bridal demands that one pays Ksh.1000 that is non-refundable for any audition.
Judging from the trending hashtag *paymodelske it seems Sheila is not the only one who has experienced the unethical approach shown by the modelling agency. A lot of those tweeting backed her up by sharing some of their experiences whereby a notable number did not get their pay.
Complaints of even some being paraded half-naked in the name of `showcasing' their bodies is among what has been said about the agencies.
Please arrest this man 🤦🏽‍♀️🤦🏽‍♀️🤦🏽‍♀️ @PoliceKE this is sexual assult🙄 #PayModelsKe pic.twitter.com/UGJSAx3irG

— Sheila Kanini (@sheila_kanini) February 12, 2018
Among the agencies that have been brought to the limelight is  ;
Darling which allegedly asked for a 60% cut from the model's pay;
True Love Magazine   held a shoot on November 2017 and till to date they have never paid their dues as agreed.
ICEA Lion Group and Couture Africa are also among the agencies that have used the model's image and failed to pay as agreed.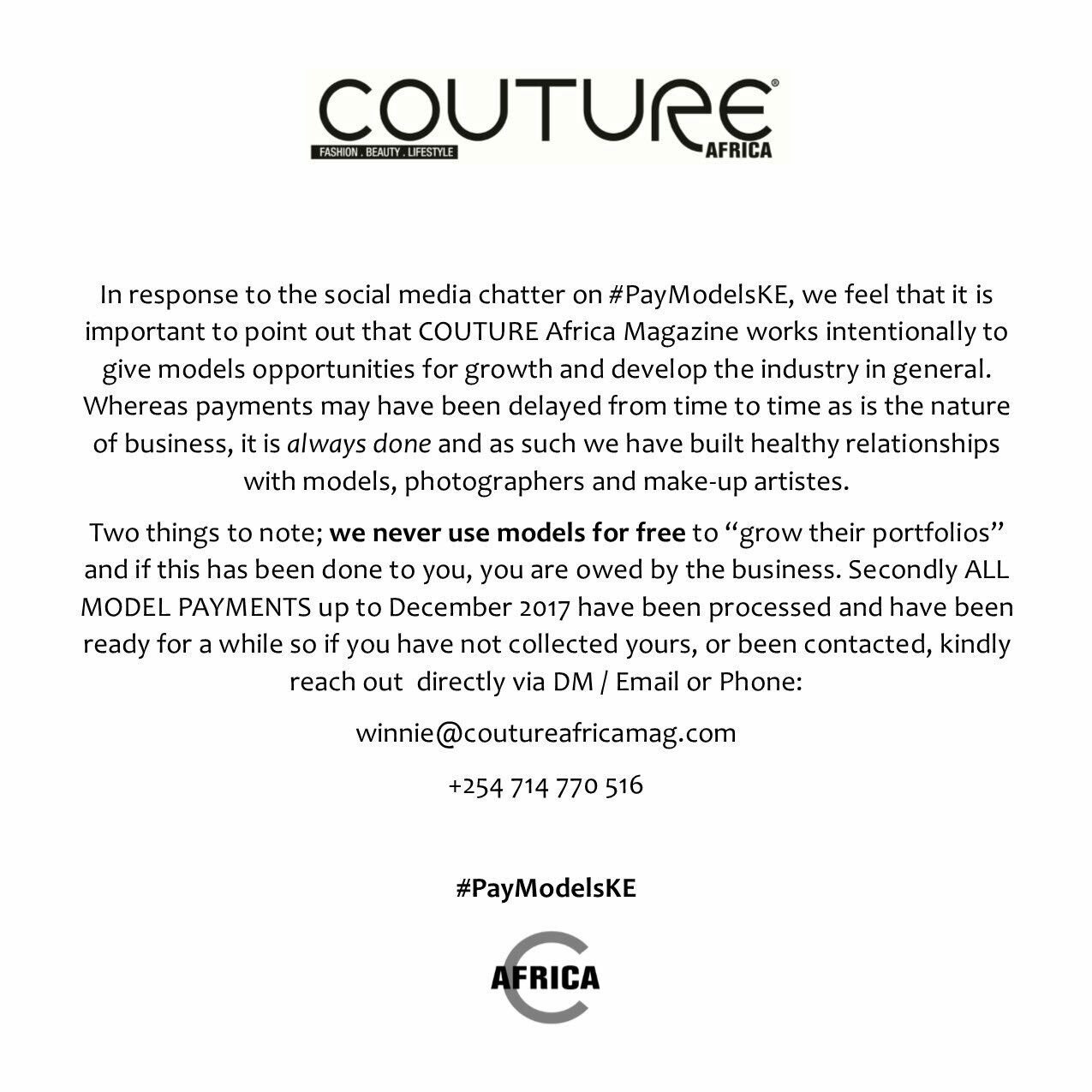 What is your take on this ? Do you have any experience in this regard? Kindly share your story below.