Ugandans cannot believe that they now have to pay tax on something as simple as social media!
As of July 1, people in Uganda have to pay 200 Ugandan shillings (about Ksh. 5) a day if they want to use social media or pay using mobile money.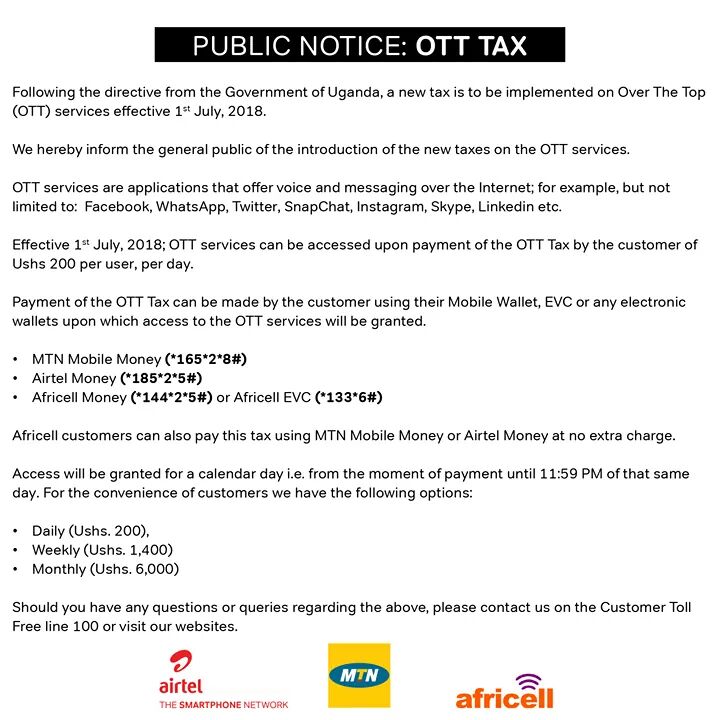 According to the Daily Monitor, people across the country took to social media to share their frustration, and explain how to get around using the tax (for now) by using VPN.
The idea was first floated in March, when President Yoweri Museveni reportedly wrote a letter complaining to the finance minster about online gossip and suggesting a tax be introduced to "cope with consequences."
In May, parliament passed legislation introducing the tax on "Over The Top" social media that provided messaging services. And now, it's finally been implemented.
Users can pay the social media tax using mobile money.
Ugandan telecom providers sent out a statement instructing users how to pay with mobile money using their services—because of course, it's not easy to pay for something using a payment service that you have to pay a tax on in order to use.
Evacuate this city,
Engage all VPN defenses,
And get this man a SWIFT #socialmediatax pic.twitter.com/W29T3e1EZv

— high.rawler (@MarkMyles2) June 28, 2018
Guys lets stop talking about VPN and pretend we paid the tax
So that museveni and his goons can start fighting amongst themselves looking for who stole the #socialmediatax money pic.twitter.com/jmLPEUtSIw

— B.U.S.O😢🇺🇬 (@wyclif_henry) July 1, 2018
Ugandans going through enough already. 😂#SocialMediaTax pic.twitter.com/FTbnXyqwJY

— Catherine Nakawunde (@ckawunde) June 30, 2018
The President should also pay over staying tax #SocialMediaTax pic.twitter.com/kcG3RuMXfY

— Jeremiah Ainebyona (@jerryjones99) June 30, 2018