The 2018 world cup quarter semi -finals saw Zlatan and Beckham bet before England- Sweden match on Saturday.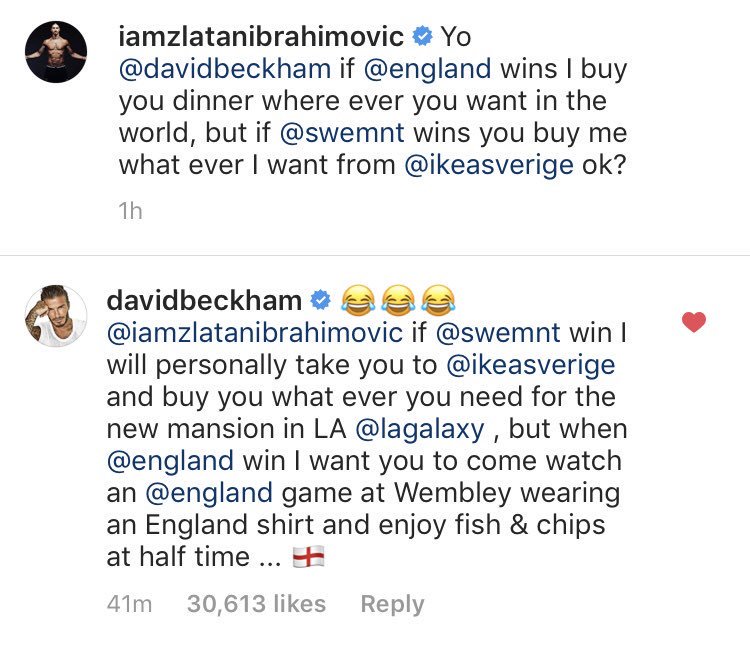 Zlatan had pledged on wearing  England's jersey to a game at Wembley stadium and take Beckham to any destination to the world if England won while Beckham offered to Buy Ibrahivomic anything from IKEA if Sweden won.
"Zlatan- If England win I buy you dinner wherever you want in the world, but if Sweden wins you buy me what I want from IKEA,okay?
Beckham   responded –
If Sweden win I will personally take you to IKEA  and buy whatever you need for the new mansion in LA. But when England win, I want you to come watch an England game at Wembley wearing an England shirt and enjoying fish and chips at half-time''
However, it seems Ibrahivomic is ready to honour his bet as Sweden lost to England and got kicked out of the world cup. Beckham took to social media to mock Zlatan for his loss saying
" Looks like someone is coming to Wembley again.''
Zlatan was not ready to bow out of his promise, as he responded
" David Beckham , I'm coming. Congrats.
Let's wait and see if Beckham will celebrate England's win for long as they take Croatia at the semi-finals.